Urg, I'm so used to posting on Thursdays that I didn't even realize this post was due today. Oh, Wikipedia, I have a love/hate relationship with you. I love having a vast variety of information at my finger tips, but I hate losing hours of my life when I only intended to spend five minutes on the site. I often get caught going for a Wiki Walk.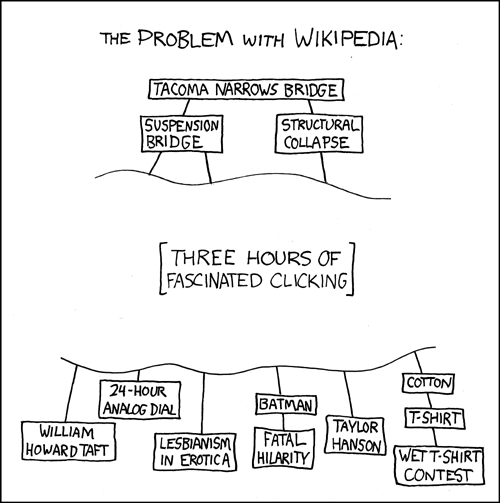 I actually have no experience editing on the Wikipedia, though I have edited on others like Dr. McClurken's class wikis, as well as TV Tropes and various fandom wikis. I think it's really interesting that you can watchlist pages to be aware of changes made, which is particularly important when those pages have been vandalized. I think Wikipedia is a fairly trustworthy site because it provides sources and, as Jimmy Wales noted, the people who do most of the editing are people who are involved in the community and are generally intelligent. Who else would devote so much time to creating an encyclopedia?
I've never looked at a Wikipedia history page. I think it's a bit difficult to understand at first glance. And second glance, for that matter. But it's not so hard once you figure out what all the various sections represent. It's cool that you can see the process of the changes that have been made, and being able to link to a static page is really helpful in combating the impermanent nature of the web.
I have looked at discussion pages before, and I've often found that the discussion is sometimes useless. I always see topics started by people who have a deficiency in grammar and spelling. However, some discussions are really valuable. I've seen attempts to make connected pages more uniform in their standards, information, and language, and discussions can provide an insight into some of the interesting interpretations connected to certain subjects.
Tags: dh2010